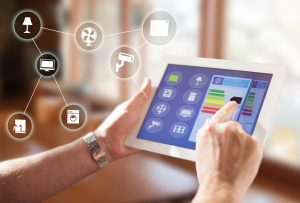 The weak currents designate the currents used for the transport of information: telephony, home automation, computer network, automatisms, etc.
They oppose the strong currents used to transport electrical energy and intended to be converted into lighting, heating or motive power.
Weak current refers to cable networks that carry information and not energy. Of course, these cables are covered by electrical pulses, hence the current designation, but these pulses are very low (very low voltage and very low intensity), hence the qualifier of low.
The weak current network includes telephony, internet, intercoms, video surveillance, alarms, etc.
Today, therefore, the low current also includes the network called "Ethernet" allowing you to distribute, from your table, internet, phone and TV in all rooms of the house.
That is why, more and more, it is domotic or home communication network specialists who support the weak current network, while the electricians, they, focus on the strong current.
Computer Network Infrastructure lot
Surveillance camera lot
Home automation lot
Telephony lot
Intercom Lot
Videophone lot
Automatic fire detection lot
Detection intrusion lot
Access control lot
Fast corridor lot
Parking access lot
Parking management lot
Television distribution lot
Nurse call lot
Sound package
Centralized clock lot